[Submissions Closed]
Scotchman 50th Anniversary Ironworker Giveaway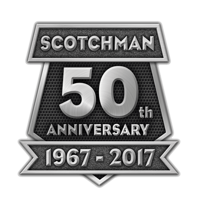 Thank you for your interest, but submissions are now closed. Visit our blog for the latest Scotchman news.
Scotchman Industries is grateful that your business has helped us reach 50 years building ironworkers for the manufacturing community. To celebrate, we're giving away a NEW 50514-EC ironworker to an American school.
The winning submission will also receive a $1,000 tooling credit for their own use.
Exposure to manufacturing opportunities is valuable to students in search of quality careers. Do you know a school that could benefit from a brand new ironworker? Help them out!
If you bought an ironworker in 2017, you're already entered. But past customers can enter as well!
You only need to complete a testimonial on why you love your Scotchman machine and how it has benefited your business, along with a photo of your Scotchman.
*The winning school must be located in the United States. Please limit one entry per company.