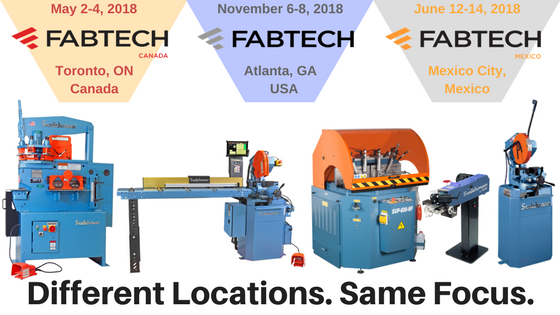 Scotchman Industries is going international to attend two of North America's largest metal fabrication events: FABTECH Mexico (May 2-4, 2018), and FABTECH Canada (June 12-14, 2018).
We'll be taking our ironworkers, circular cold saws, and other metal fabrication products to THREE different locations in North America so metal fabricators across the continent can see first-hand how our machines have the ability to add value to their businesses.
At Scotchman, we're always looking for opportunities to make connections with fabricators and businesses–– learning about their metal fabrication needs and discussing how our products and dedicated sales and service teams can help.
Although it's still a few months away, registrations are officially open for FABTECH Mexico and FABTECH Canada. Keep reading for a preview of both events, and learn why you should make plans to visit the Scotchman booth!